Vintage Wedding Gown Restoration from Abominable Productions on Vimeo.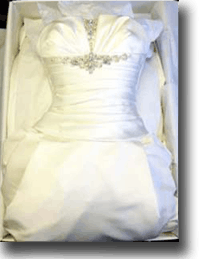 "My daughters wedding dress was just lovely; she and I both adored it! After the ceremony and dancing festivities the gown had stains and was unbelievably dirty around the hem.  We were both so worried it would never again be clean. I found Kelchner Cleaners on the Berks County Weddings.com website, conveniently located within a half hour drive.
Their customer service staff completely explained the process they use to clean the dress onsite (never sent out). A couple of weeks later, I picked up the gown.  The gown was packed beautifully in specially designed boxes.  There was a personalized, signed card on the outside with a photograph of the gown inside.  The dress was so clean and I felt so cared for. I'm sure it's a tedious job, but the result means so much.
I can't even tell you how incredibly impressed I am with the care that they took and the job that they did on this dress. The price you charge is more than reasonable for the service you provided! My daughter cried when she saw it…so happy.
I can't recommend these folks enough; they deserve a lot of credit for what they do.  This is THE place to get your wedding gown cleaned and preserved!  Thank you Kelchner Cleaners!"
~ Carolyn Weil
—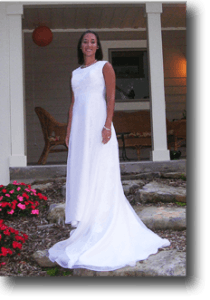 "As a young bride, I loved the idea of having my wedding dress cleaned and preserved for perhaps a future daughter to wear. In 1976, I took my dress to have it cleaned and placed in a special box to be preserved for the future. After many moves, the box started to show signs of deterioration. I called Kelchner Cleaners store in Fleetwood and asked if they could take my dress and place it in another box. They said they could but when they removed the dress they noticed that the dress had never been cleaned by the previous drycleaner. They were as horrified as I. The person I spoke with, at Kelchner's, told me he would try to get the dress clean and place it in a box with tissue paper to support and protect the dress. Fast forward 35 years later to 2009 and my daughter asked to see the dress to possibly wear for her wedding. We opened the box with some trepidation. Would it still be usable and look beautiful? We are happy to say, yes! The dress was altered for my daughter, pressed by the staff at Kelchner's and worn for her wedding on September 5, 2009. My daughter loved the dress and loved wearing it. People are still talking about the dress and everyone who has seen the dress or the pictures cannot believe it is 35 years old. Thank you, Kelchner Cleaners, for your keen eye and tremendous work on the dress."
~ Marie North
—
"Thank you so much for the care and expertise you showed in cleaning and preserving my wedding gown. I considered using one of the franchise cleaners, but none of them offered the personal touch that Kelchner's does. I knew from the minute I spoke with Connie on the phone that I could trust of something as special as my wedding dress. I also appreciated your willingness to let me view my gown one more time after it was cleaned and before it was boxed. It's not often in these days Kelchner's with the preservation of "cookie-cutter" businesses that you get the kind of customized, thoughtful service you provide at Kelchner's-no wonder you've been in business for over 50 years! I will recommend Kelchner's to everyone who wants to preserve his or her special memories. Thanks again!"
~ Anne M. Ostrowski
—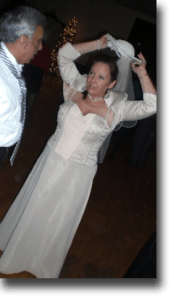 "I always loved wearing hats.  Kelchner Cleaners has been taking care of them for over 25 years.  I've brought them my "Russian princess" hat which is red with black fur trimmed.  I get so many complements on that and the wide brimmed red felt one, and the black felt one with attached scarf which they've cleaned also.  Of course, when I got married on December 5, 2009 I had a reputation for wearing hats and it wasn't going to stop on my wedding day!   I had a 15-year old ivory hat that I bought and never used and veil fabric that I had for almost 30 years that had been stained.   I knew without a doubt,  the only place I could trust this with was Kelchner Cleaners.   When I picked the hat and veil up, it looked more beautiful then I ever remember the hat looking new.   I had the most beautiful headpiece I could ever imagine.   When I stitched them both together the night before the wedding, I was so thankful that so many years before I had trusted them with so many beautiful items and they certainly didn't let me down for our wedding."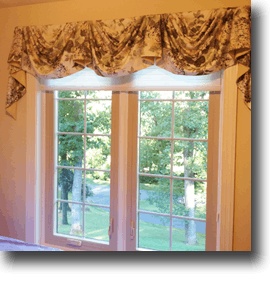 "What a pleasure meeting all of you. John and I cannot thank you enough for all you did for us throughout our mold ordeal. We could have never done it without all of you. We so enjoyed working with you, getting acquainted. I feel you are old dear friends…I hope our paths will meet soon again. We most sincerely cannot adequately express how much we appreciate your kindness, humor and professional service."
~ Holly and John
Pam & Rick,
This note is long overdue, but I wanted to thank you for taking your time to search for my misplaced wallet a while ago. I appreciated the "extra special " customer service. Also, your staff is always very friendly and helpful. They keep you wanting to come in again. A special note of thanks to Lois. She does a great job with all my alterations.
Joe Reighn
Dear Pam & Rick,
I just wanted to thank you, again for the incredible job you did in restoring my forty-four year old wedding gown. It looked brand new. It was so stained and wrinkled that I felt it was impossible to fix but you did it beyond my wildest expectations! I thank you so much for all of the time and effort you put into the project which touched my heart.
Sincerely, Paula Ebert
"I had a very tough staining on white shirts, Kelchners tried twice to restore them and only charged me for the normal cleaning because it was beyond their capabilities. They did their best and I appreciate the efforts. I recommend them for any job."
Dale J DeWald