You're bridal gown is the single one tangible symbol of the love and commitment you have made to one another. Wedding day bliss can leave your treasured heirloom stained, soiled and even torn. You want your wedding day to last forever. Fortunately Kelchner Cleaners is able to provide all brides in the Lancaster and surrounding areas with quality wedding dress preservation! We can focus our attention on those stains and also on preservation methods for your wedding dress.
Forget the plastic bag and hanger.
To look great years down the line, your dress needs serious tender loving care. With our two methods of wedding dress preservation, we are able to preserve your gown with techniques that ensure its survival for future generations and future celebrations. Reminiscing allows your special day to last forever.

Your treasured heirloom will be processed onsite (never sent out). This allows you to view your gown during the wedding dress preservation process and before packaging. Special attention is given to stains, ornamentation, repairs and the soiled hemline. Having your garment taken care of early after your nuptials may help to prevent permanent stains.

Kelchner Cleaners offers two wedding dress preservation options: the Museum method "Conservator Series" chest, and the Museum Method™hanging packaging systems. Both systems provide an acid/lignon free environment which permit ease of viewing and inspection. Kelchner Cleaners also provides heirloom gown restoration services if you have the unique opportunity to wear a vintage gown.
Museum Method Preservation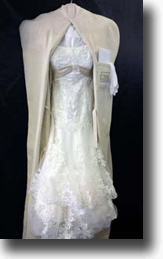 Museum Method™ 'wedding gown preservation the archival alternative to boxed gown preservation. This method allows your wedding dress to breath while permitting easy inspection of your garment. It is the perfect acid-free environment.
• Acid/lignon-free cotton padded hanger & bag
• Bodice stuffed with acid-free tissue
• Hangs in standard closets
• Least risk of permanent creases, permits easy access for inspection
Museum Chest Method Preservation
Conservator Series is a chest and tight fitting lid, covered by a beautiful zippered muslin bag. This style of preservation is suitable for a closet shelf or under the bed storage.

Your heirloom is cleaned, gently folded and packaged using acid/lignon-free tissue paper and a muslin liner.

The Conservator Series permits easy access for periodic inspection.

Detailed recommended instructions are included.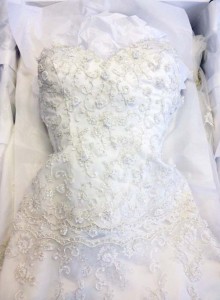 Vintage Garment Restoration
With nearly 70 years experience, a dose of patience and three generations of fabric knowledge you can trust Kelchner Cleaners to breathe new life into your treasured garment! Gentle, specialty cleaning agents and understanding the nature of stains 

will assure our customers the best possible outcome when handling heirloom 

garments preservation. There is no greater pleasure then wearing a family treasure, which has 

been given the gift of new life by Kelchner Cleaners.
Title Kevin MacLeod (incompetech.com)

Storage Recommendations:

•  Never store your gown in the attic or basement
• Light, humidity and high temperatures impact negatively on heirloom garments.
• Do NOT store your heirloom in plastic: which traps moisture, causes yellowing and fabric deterioration due to chemical fumes.
All garments are processed and preserved onsite at Kelchner Cleaners. No garment is ever sent off site. We offer brides the option to view their special garments prior to packaging to insure customer satisfaction. We offer our Wedding Gown Preservation to brides in the Allentown, Bethlehem, Reading, Lancaster and the surrounding areas.

Recommended by Victorian Bridal Salon